These are benches with soft pillows, neat flowerbeds, cozy garlands with light bulbs – sometimes it takes very little to transform the patio. In my collection of photos there are a lot of pictures with terraces. Some are set up in new houses still in the construction phase. Some are made from improvised tools in the courtyards of high-rise buildings. But they have one thing in common – people who once wanted to build and somehow decorate personal and common space. I'm sharing my favorite terraces with you.
I'll start simple. It seems nothing unusual. The house is like a house, instead of a chic terrace – a table with a nondescript tablecloth, a chair with flowers and a couple of plants in pots. But it is in these simple details that the comfort lies. People didn't have money, but they still figured out how to change their yard with simple things.
Terrace in the courtyard of a private house. In the summer, the whole family gathers at this large wooden table – for breakfast, for dinner. And it's nice to read books in this chair.
The gazebo is in Scandinavian style. Here there is a sofa, pillows and many, many plants. It is convenient that here you can hide from the rain (the furniture will not get wet exactly).
There is a terrace on the first floor of a modern multi-storey house in one of the sleeping areas of Barcelona. It must be very comfortable here to drink wine in the evening and to have long leisurely conversations with the people you love.
And this is what a terrace in a Swedish house looks like. We like this original wooden table. And appreciate the mini-stove with firewood! Can you imagine how cozy it is here on dark evenings?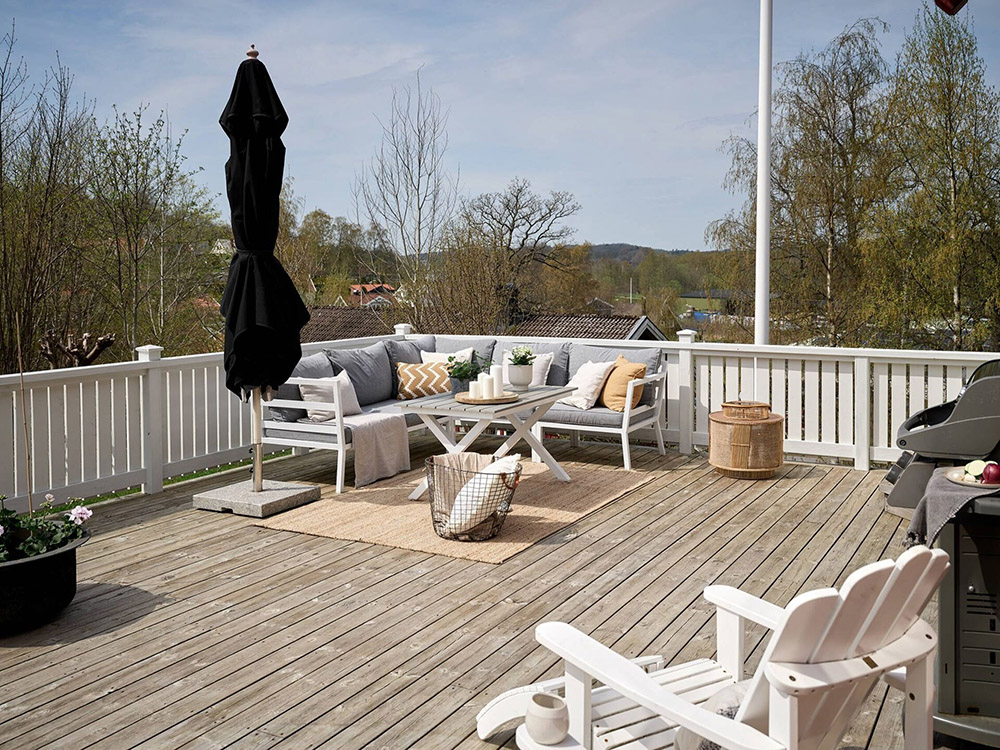 Very beautiful and large terrace in one of the houses in Slovenia. The house itself is not too new and looks normal. But above the terrace owners did a good job. Although, if you look closely, not too much money was spent on the arrangement. A bench with removable cushions that can be brought home during the rain, an umbrella from the sun, a table. Everything is simple and tasteful.
This photo I took during my vacation in Finland. The house in the picture is a residential one. The locals have made a place for themselves to rest. It looks gorgeous. Do you agree?
Hello! I'm Mary.
I'm sharing stories about homes and apartments that inspire.
In my blog, I aim to connect with people who have a passion for Scandinavian interior design. I'd be delighted if you become one of my readers!