Fashion for cozy and comfortable balconies, where you can sit in the evening with a glass of wine and watch the sunset, came recently. Previously this space was used as an additional storage room – cluttered with unnecessary things, there were bicycles and prams…
Now balconies increasingly turn into an optional space for relaxation. Small sofas, rocking chairs, tables with chairs, special garlands with light bulbs, plants and flowers.
I share with you a selection of beautiful balconies. Do they look very cozy to you?
This outdoor balcony is located in one of the modern residential complexes. The landlady of the apartment has turned it into a small garden with plants and bright flowers. Also here grows greens: tomatoes, mint, basil. Wooden partition protects from curious neighbor views. And the curtain that leads into the room adds to the cosiness of home.
---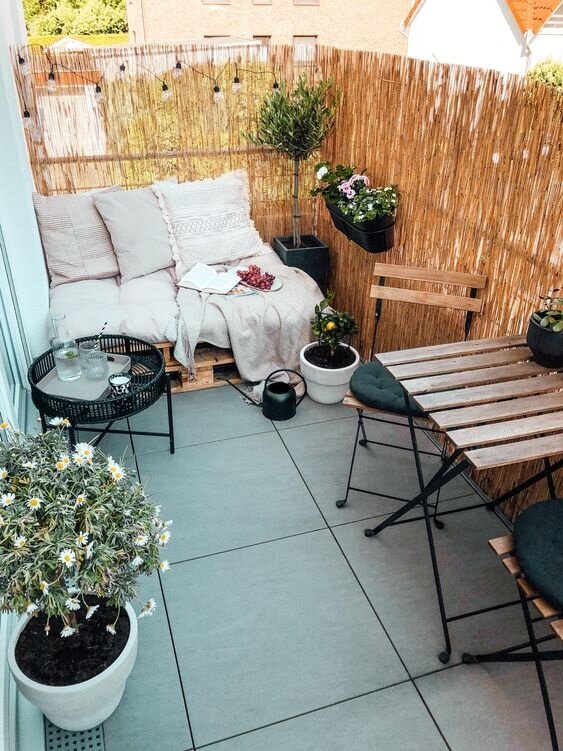 This balcony is lined with cane. Such a fence can be bought in any large construction hypermarket. She is not only aesthetically beautiful, but also indifferent to the rain (does not rot). The only drawback is the risk of fire. Imagine what would happen if a neighbor on top drops ashes or a cigarette butt. Interesting ideas: a small table for water and glasses, a vase with chamomile.
---
However, many such a decorative fence does not scare at all.
---
Another outdoor balcony-terrace. Would you like to be in such a cozy place now? Wine glasses, small table lamp, carpet and potted flowers. Gorgeous!
---
Cute loggia. Pay attention to the wall grid with flowers. A simple idea that can easily be adopted. And, of course, garlands with big lights!
---
The mistress of this balcony has a chic taste. It seems that this is not a balcony, but a real living room for guests.
---
The small shabby balcony does not interfere with the big plans. The main thing is the desire to make a recreation area. Here we see a homemade wooden folding table, a magazine, breakfast utensils and a place with a blanket for one. Comfort in detail.
---
Another example of how great it is to use small space.
---
The puppy certainly likes to rest on this balcony, which seems to be designed for the perfect date outdoors. Lots of greenery, bright bouquet of flowers, sofa with pillows, lighting and candles… Beauty!
---
And finally an incredibly cozy balcony, you don't want to leave it. Garlands and electric lanterns add 200% to the coziness. On the floor there is a mat, an umbrella is attached to the railing of the balcony, in case of too bright sun.