The family bought and restored the old house, retaining historical elements in the interior and adding several Scandinavian accents. The results really impressed me.
This house is completely made of wood. The floor and ceiling are painted white. And vintage furniture is in harmony with modern appliances.
When I looked at the photos and noticed interesting details, there was only one thought in my head. — What a pity that such a careful attitude to the past is rare. For some reason, many prefer to demolish the old and build in its place something completely new.
The house is located in the Swedish countryside. Many miles around – not a soul, only occasionally there are lonely houses. This secluded atmosphere creates some special comfort. I was also impressed by the old restored stove and the frayed white floor. On the one hand, it's inconspicuous. On the other, it's very atmospheric.
The kitchen is rustic. Expensive fashion refrigerator Smeg out of the interior, but 120-year-old table, which is also restored and old wooden cabinets bring some balance to the entourage.
There's a coffee machine, a sink overlooking the patio, a beautiful vase with wooden appliances, sauces on the shelf and a vase with flowers.
Welcome to the living room. We see furniture, pillows, blanket and carpet of neutral colors. This is the basic principle of Scandinavian design: no bright elements. Such a color gamut smells of incredible calm, do you agree?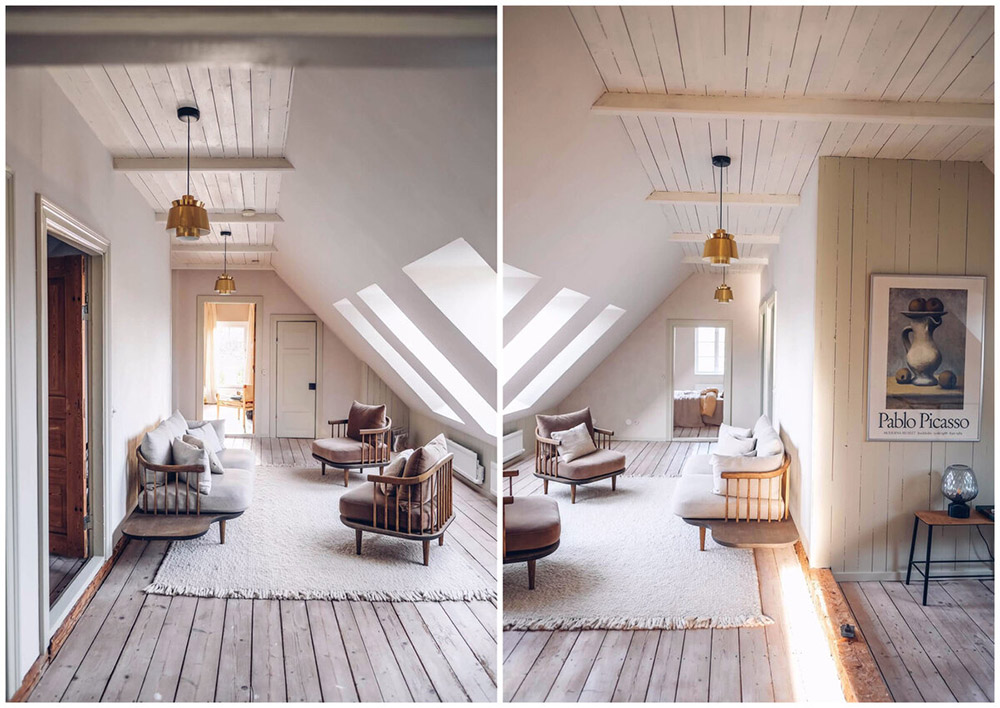 The living room, where you can talk slowly. By the way, you know what else surprised me in this house? There is no TV and computer. However, in an atmosphere conducive to rest and heart-to-heart conversations, such household appliances are unlikely to be useful.
It's a bedroom. It's simple and no frills. A place to sleep and relax after a hard day.
View from the window. No double-glazed windows, just restored wooden frames. How do you like this house? Would you like to wake up here and have breakfast looking out this window?
Hello! I'm Mary.
I'm sharing stories about homes and apartments that inspire.
In my blog, I aim to connect with people who have a passion for Scandinavian interior design. I'd be delighted if you become one of my readers!