This apartment is very different from other housing. First, this loft is a large 1,130 ft (105 m) room in a former production building converted into a residential building. That's why there are high ceilings, large windows of unusual shape and a lot of space.
Secondly, a man lives in this apartment. He independently chose furniture and invented the interior. It turned out unusual, but stylish. So to speak, a cozy house with a man's character.
Third, the owner of the loft is a great admirer of old things. There are not so many vintage things, but they are. And also from the unusual: there's no bedroom, the owner sleeps on the large sofa in the living room.
How do you like this interior design? Very interesting to know your opinion!
The living room is the main room in this loft. The owner of the apartment very often makes a rearrangement, so he picked up the furniture so that it can be easily moved and combined. The table, the comfortable sofa and the wide yellow armchair are constantly in new places. And yes, appreciate the vintage carpet of the 70s!
---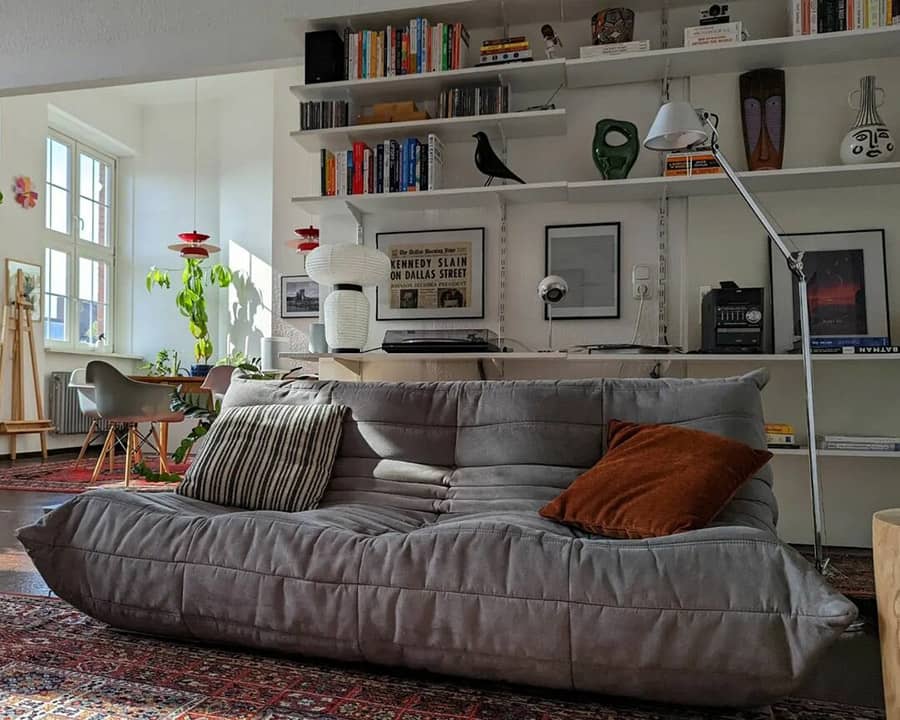 The sofa seems like a cloud that you want to fall on.
---
And look how cozy this corner becomes with soft evening light.
---
Details of the apartment. I don't know about you, but I would have guessed right away that the landlord is a man and that he lives alone. The design is stylish, the details are interesting, but the female hand is not felt here.
---
Kitchen with unusual windows. There is not enough natural light, so the owner installed small lamps along the entire kitchen set. Do you see them?
---
Opposite the kitchen set are family photos. Still young apartment owner and his sister together with his father. Somehow, it's very touching to see that, especially in a man's apartment.
---
The bathroom has the same unusual round window as the kitchen. This room is made in Scandinavian style and slightly different from the concept of the rest of space.
---
The apartment has two living rooms. In this photo we see the second one. This room serves as a dining room and another place to relax. The carpets in this loft certainly impress me.
---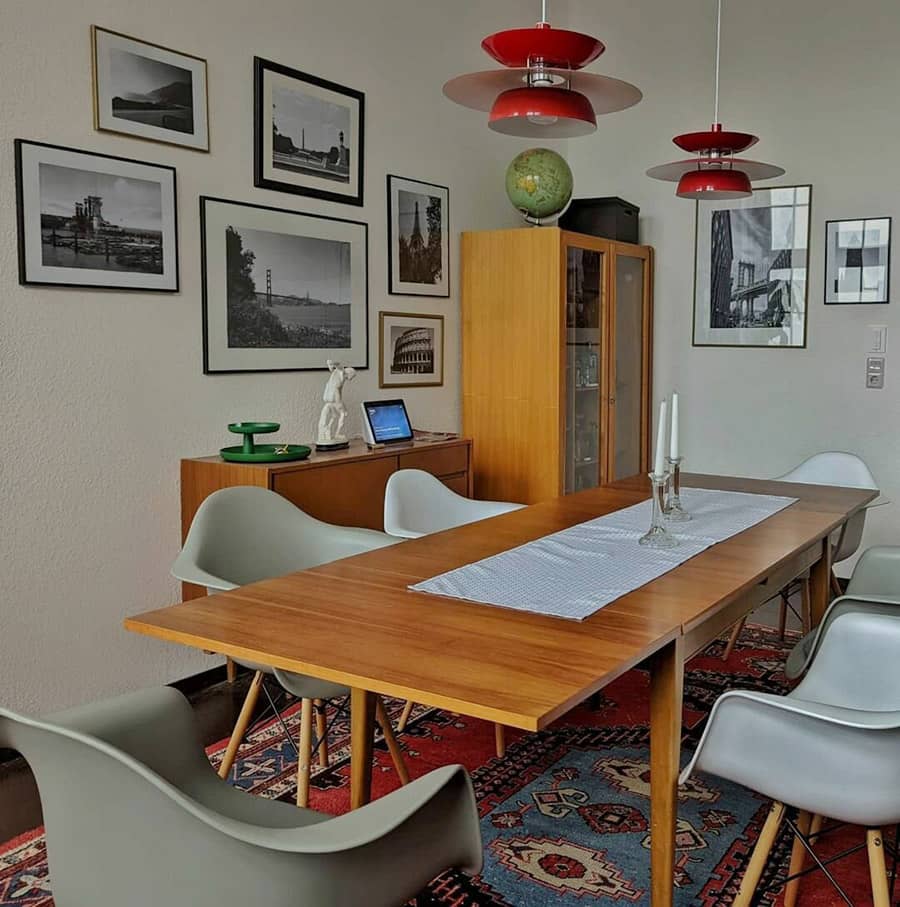 Table, dresser and vintage cupboard.
---
That's the rest area. A big TV with a drawer from the '60s, a leather armchair with a footstool, books on the floor and all that against a brick wall. I'm telling you, this house has a very masculine character!